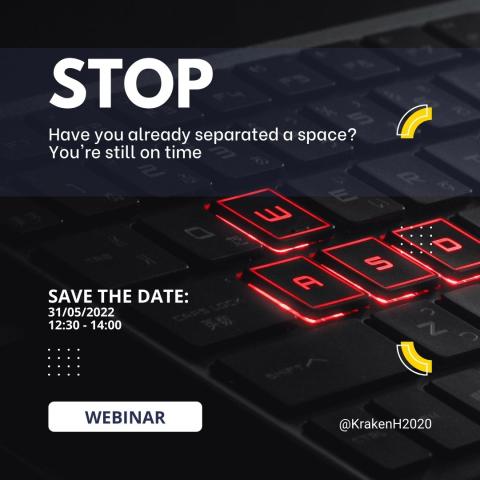 Last 31st May 2022, the consortium prepared a webinar where KRAKEN provided an extended visibility on the technical domains where the project is working for securing and preserving privacy when data are shared and their related ethics/legal aspects.
The participants of this event are partners from and outside KRAKEN, providing a very valuable information about main achievements on the field they are working on.
 Speakers were as listed below:
Jessica Schroers,  doctoral researcher at the Center for IT and IP law of KU Leuven. Legal researchers on KRAKEN project. Her research focuses on data protection law and the legal issues related to electronic signatures and identity management. Besides the projects, she is currently conducting her PhD on the responsibility for electronic identity.
"Legal aspects of the KRAKEN system"
 

Silvia Gabrielli

, PhD in Cognitive Sciences from the University of Padova (Italy), is a senior researcher at the Digital Health Lab (FBK) working at the user-centered design and validation of behavioral intervention technologies for health and digital therapies for clinical and non-clinical populations. She is leading the user testing activities on the KRAKEN data sharing platform releases, to inform the platform design and facilitate its future adoption by the relevant stakeholders.


"User study of the KRAKEN data sharing platform first release"
 

Liina Kamm

works in Cybernetica in Estonia as a a senior researcher of privacy-enhancing technologies with the focus on health studies.




"

Privacy-preserving precision medicine"
 

Inés Ortega,

Technical Manager of Data Analytics and AI at the Galician R&D Center in Advanced Telecommunications (Gradiant). Gradiant participates in the INFINITECH (H2020), where they developed advanced data anonymization techniques especially suited for Big Data and streaming scenarios.




"

Data anonymization: becoming GDPR compliant in the era of AI and Big Data"
 

Martina Šestak

, researcher and teaching assistant at the University of Maribor, Faculty of Electrical Engineering and Computer Science in Slovenia. Her research interest's primary include big data technologies and architectures. She is currently involved in DE4A project, where she is implementing technical components for supporting the usage of the SSI principles in the higher education domain.




"

SSI-based diploma issuance aligned with eIDAS framework"
 
Simone Fischer-Hübner 

Full Professor at Karlstad University since June 2000, Head of the Privacy& Security (PriSec) research group.

 

Diploma Degree in Computer Science with a minor in Law, PhD and Habilitation Degrees in Computer Science from Hamburg University. Awarded an Honorary Doctorate by Chalmers University of Technology in 2021. She is the Swedish representative of IFIP (International Federation for Information Processing) TC 11 (Security and Privacy Protection), IFIP TC 11 vice chair, member of Cybersecurity Council of the Swedish Civil Contingency Agency (MSB), board member of the Swedish Data Protection Forum (Forum för Dataskydd) and member of the board for the Privacy Enhancing Technology Symposia (PETS). Partner in several EU H2020 projects, like CyberSec4Europe and scientific coordinator of the Marie Curie ITN Privacy&Us (Privacy&Usability).




"

Challenges of Usable Privacy & Security"
 You can find the corresponding presentations and the recording of the webinar below: