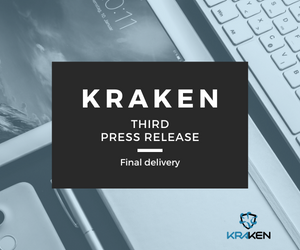 November 30th was the official last day of the KRAKEN project. When the 10 KRAKEN partners (Atos, AIT, FBK, ICERT, KUL, Lynkeus, SIC, TEX, TUG, XLAB) met in Madrid in December 2019, an exciting, promising and demanding journey was ahead of us. Then in March 2020 a pandemic transformed our lives and project meetings turn to be online instead of physical meetings. This additional challenge made us more resilient and with new energy for addressing the technical, privacy, security, ethical, legal and business challenges. During these three years a huge and hard work has been performed by the KRAKEN partners, for delivering the KRAKEN platform based on 3 main pillars, the Self-Sovereign Identity, Advanced Cryptographic Tools and the Marketplace. Legal and ethical recommendations were applied during the implementation process, and business and exploitation plans has been performed for the future of the KRAKEN outcomes.
The KRAKEN main achievement reached (as planned) is the implementation of a highly trusted and secure yet scalable and efficient personal data sharing and analysis platform through adaptation of state-of-the-art technologies. In this way the KRAKEN platform:
Integrates a SMPC service for analytics
Integrates a SSI solution for onboarding and login to the Marketplace and University using a mobile digital wallet
Integrating also, privacy metrics on the published data, and applying usability principles.
During the implementation process follows W3C standards and regulatory guidelines for being GDPR compliant.
Has been demonstrated in 4 health and 3 education use cases, but the lessons learnt could be applied to other domains.
Integrates blockchain for payment transactions, and the business model is based on pay per access to data and per computation, following a dynamic price structure.
Click on the attached file to find out more.
Category
Marketing material